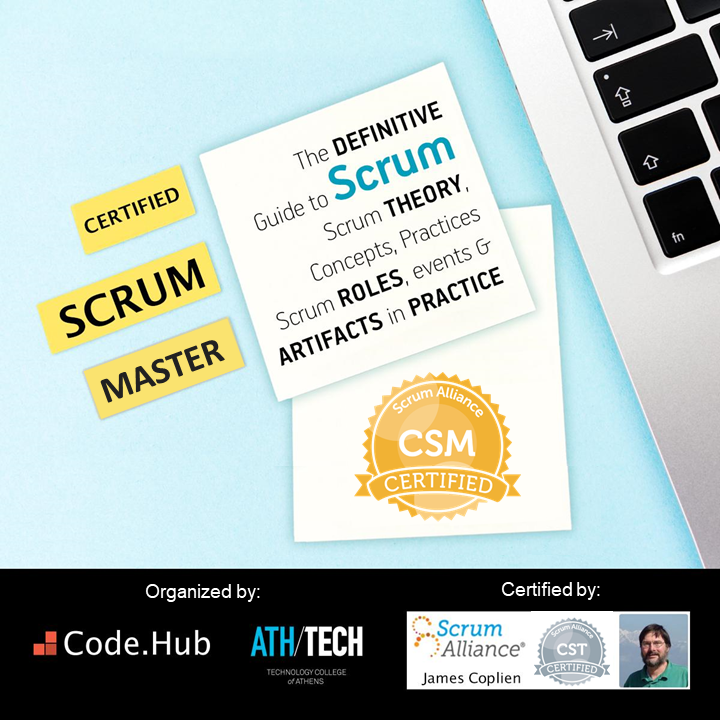 Certified Scrum Master® By James Coplien
Description
It is with great honor and joy that, after a long wait due to the pandemic, we have with us once again, the one and only: James Coplien!
The Code.Learn Certified Scrum Master program, designed in exclusive collaboration with James Coplien, author of "Organizational Patterns of Agile Software Development" and "Lean Architecture: for Agile Software Development", is designed to give aspiring and beginning Scrum Masters and team members the foundations of Scrum and Agile practice.
Centered in practical exercises, the seminar creates lasting memories and learnings that participants can carry over to their teams so that they can avoid common Agile pitfalls.
---
Rationale
Scrum Masters are the ladders of the Scrum Team, acting to properly set Scrum up according to the Scrum Guide's definition. Scrum Masters achieve this by assisting everyone in the Scrum Team and the organization as a whole in understanding the Scrum theory and practice, and facilitating the Scrum Team's improvement within the Scrum framework.
---
Certification
Taking this CSM course, passing the CSM test, and accepting the license agreement designates the participant as a Certified Scrum Master, which indicates that they have been introduced to and understand the basic concepts they need to perform as a Scrum Master or team member in a Scrum team.
---
Key Objectives
The key learning objectives of this program can be summarized as follows:

Scrum Theory, Concepts, Practices
Agile and why it works

Scrum as three roles: Product Owner, ScrumMaster, and Development Team

Scrum as four events: Sprint Planning, Daily Scrum, Sprint Review, Sprint Retrospective

Scrum as four artifacts: Product Backlog, Spring Backlog, Impediment List, Sprint Goal

Poker Planning
Release Planning
Production and Sprints
The Sprint Goal

Sprint Planning

Task Boards

The Daily Scrum

Burndown Charts

Velocity and Drag

The concept of "Done"

Technical Debt

Sprint Signature

Sprint Review

Sprint Retrospective
Velocity Game
Overcoming Impediments
Management, Distribution and Scaling
---
Schedule
Coming Soon @ April/May 2023 (you will be informed as soon as possible for the registrations)
Dates to be announced soon!
---
Duration
16 Hours (2 full days)
---
Target Audience
This course is for everyone who wants to learn more about how people work effectively on teams to build things together. Managers will learn how they can support teams, and Project Managers will learn new ways of looking at product development.
---
Prerequisite Knowledge
No prerequisite knowledge is required.
---
Classroom
Sessions will be carried out inside a physical classroom in our premises at:
Code.Hub Training Center
Leof. Alexandras 205, Athina 115 23
Find us on the map
CERTIFICATION INSTITUTE:

Scrum Alliance

DURATION:

16 hours

PREMISES:

Code.Hub Training Center Leof. Alexandras 205, Athina 115 23