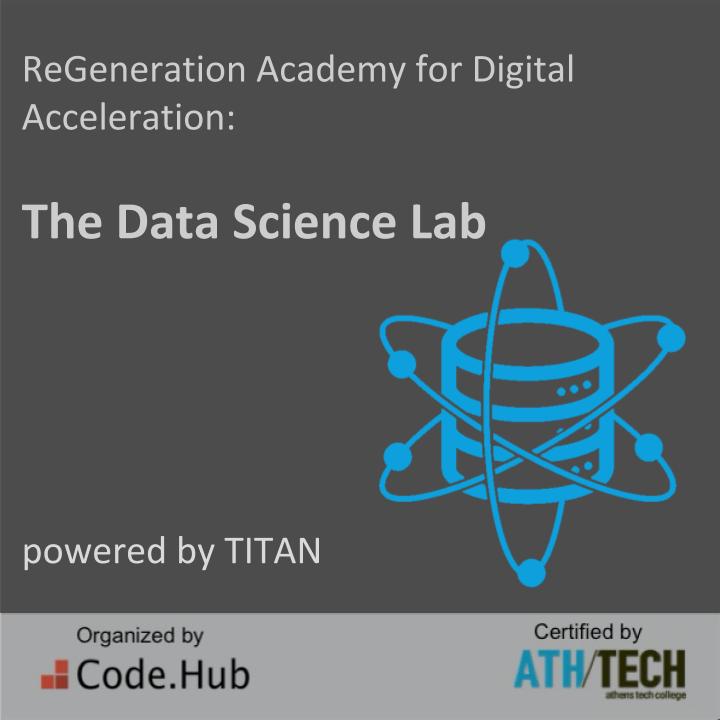 The Data Science Lab – Oct-2019
REGENERATION ACADEMY FOR DIGITAL ACCELERATION | DATA SCIENCE LAB – POWERED BY TITAN
 As indicated by Forbes, data scientist profession is considered the best one to apply!
Additionally as highlighted by McKinsey Global Institute in their recent study (December 2016) "The age of Analytics: Competing in a data-driven world", there is tremendous shortage and urgent need for competent and qualified data scientists. More specifically the study estimates that by 2018 there will be two to four million new jobs requiring data and analytics related skills, awareness and specialization only in the USA.
Why to learn:
Data science and business intelligence aspects will be covered in details!
This course is designed for both beginners with some programming experience as well as talented fresh graduates and junior professionals with firm tech and math skills looking to make the jump to data-centric fields!

The top programming languages from a career perspective as examined and indicated by several sources include SQL and Python among the first three programing languages. The main structure of this program is built on the hands-on experience that the participants will acquire by using SQL for databases as well as Python for data science purposes and scope.
Key Objectives – Curriculum (High level)
The core perspectives of this program will be to present, explore and adequately cover with extended real-life business case studies & industry scenarios the following aspects:
Python
Data & Data Management Systems
Big Data
Data integration with Python
Data analysis in python
Data Visualization
Business Analytics ( Descriptive, Predictive, Presciptive)
Dashboards & Visual Analytics
Data Mining
Machine Learning
Artificial Intelligence
Physical/Virtual Classroom
The lessons can be carried out:
Inside a physical classroom

with an instructor,

In an online environment as a virtual classroom,

with live connection with the instructor through video conferencing; or lastly,

A combination of both

physical and online.
The method of teaching will depend on the current conditions, and also on the participants' preferences.
Regarding online, the instructor provides the taught material through screen sharing, live broadcast, or by working on the cloud where attendees can see and interact with everything in real-time. Attendees themselves can seamlessly and actively participate and ask questions, as they would in a physical classroom. Additionally, they can collaborate in team projects and deliver assignments and hands-on projects that the instructor can see and provide feedback easily and without delays.
Education & Experience
Underground Degree and maximum two years of working experience in the fields of:
Computer Science/ Computer Engineering/ IT
Mathematics/ Statistics
Engineering/ Applied Mathematics
Postgraduate programs in data related fields