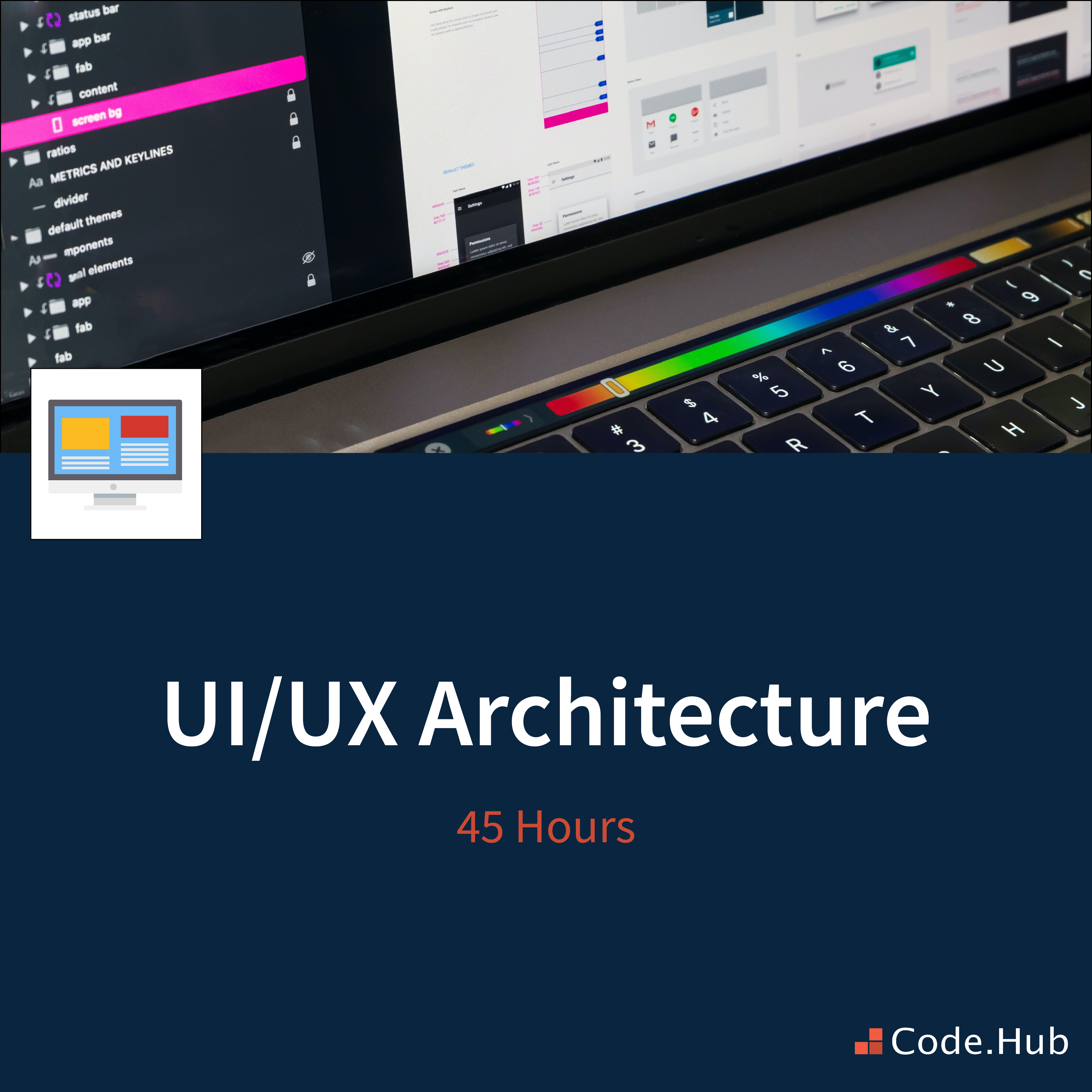 UI/UX Architecture
Description
Design is the process by which experiences are created. Today it is not enough for a product to be beautiful on the inside, it must also be beautiful on the outside. Only by creating not just functional products, but also wonderful experiences, can companies and teams achieve a true competitive advantage. UX/UI Designers are responsible for bridging the gap between capability and effect, by orchestrating the creation of products that both meet consumers' needs as well as do it in a manner that creates delight and wonder.
The UX/UI Architecture Code.Learn program, designed in exclusive collaboration with Athens Tech College, provides participants with a complete and holistic understanding of User Experience and the factors that affect it, as well as equips them with the knowledge and practical skills that will enable them to build a user-centric development culture and create wonder in their own products. Participants will be equipped with the full spectrum of skills required to architect a premiere user experience in a product, including brainstorming, research, evaluation, wireframing, and prototyping, through a combination of theory and hands-on exercises.
---
Key Objectives
The key learning objectives of this program can be summarized as follows:
Introduction to Design, Comparing UX and UI, Aspects of UX Design and the Product Development Lifecycle
Design Artifacts, Design Frameworks (Design Thinking, User-Centered Design, Elements of UX, Learn UX, Double Diamond, Design Sprints)
User Research (Research Types, Identifying and Handling Bias, Empathy Maps, Interviews and Focus Groups, Personas, Journeys and Storytelling, Usability Testing, Analytics)
Wireframing and Interactive Prototyping with Adobe XD
Understanding the Factors of the User Experience Honeycomb in Product Design
Heuristic Evaluation of Products and Prototypes
Omnichannel Design, Designing For Mobile and beyond
Visual Design and Information Architecture Fundamentals
Promoting Engagement With Gamification
---
Target Audience
Higher education graduates in one of the following fields:
Computer Science
Ιnformatics
Software Engineering
Web and Mobile Development
Computer Engineering
or any other relevant area
---
Prerequisite Knowledge
No prerequisite knowledge is required.
---
Classroom
Sessions can be carried out:
Live in a physical classroom
Live online through video conferencing environments
Using a Hybrid combination of both live physical and online approaches
The teaching method will depend on the conditions at the time the training will run and on the participants'
preferences.
PREMISES:

Code.Hub Training Center Leof. Alexandras 205, Athina 115 23