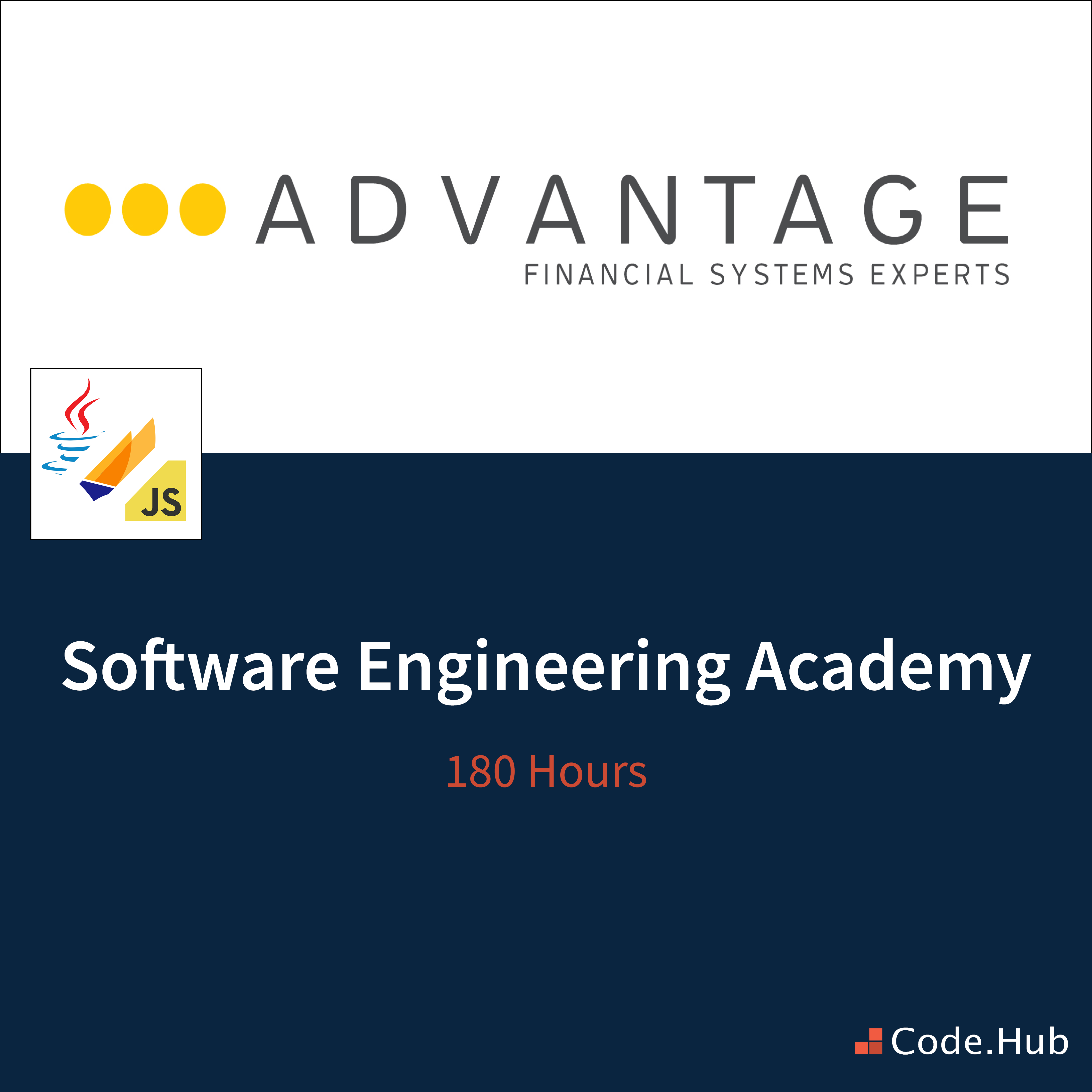 Advantage – Software Engineering Academy
Description
Τhe Advantage – Software Engineering Academy commences with Code.Hub being the training partner!
Advantage FSE is in search of recent IT-graduates to join the new Software Engineering Academy in October 2022. Advantage offers paid training & hands-on experience in a real-life simulation environment under a hybrid working model, combining work at Advantage's premises in Athens and hybrid work.
You will be coached & mentored by expert Senior Software Engineers & Technical Leads, while having the opportunity to work along-side agile teams.
At the end of the training period, and providing you graduate successfully, you will be offered a job and an opportunity to apply agile methodologies on challenging international projects, working along-side established Digital Banking professionals and leaders in their respective fields, in an inclusive & team-oriented environment at Advantage FSE.
---
Duration & Schedule
This specific program lasts 8 weeks and consists of  180 hours of lectures and hands-on exercise on real case studies and projects via virtual classroom environment and online collaboration platforms.
Start Date: 31 October 2022
End Date: 21 December 2022
Detailed Schedule (*The Schedule is subject to adjustments)
Week 1
(Oct.) 31, (Nov.) 1, 2, 3, 4
Weekdays – (09.00 – 14.30)
Week 2
(Nov.) 7, 8, 9, 10,11
Weekdays – (09.00 – 14.30)
Week 3
(Nov.) 14, 15, 17, 18
Weekdays – (09.00 – 16.30)
Week 4
(Nov.) 21, 22, 23, 24, 25
Weekdays – (09.00 – 16.45)
Week 5
(Nov.) 28, 29, 30, (Dec.) 1, 2
Weekdays – (09.00 – 12.15)
Week 6
(Dec.) 05, 06, 07, 08, 09
Weekdays – (09.00 – 13.15)
Week 7
(Dec.) 12, 13, 14, 15, 16
Weekdays – (09.00 – 14.30)
Week 8
(Dec.) 19, 20, 21
Weekdays – (09.00 – 14.30)
---
Key Objectives – Curriculum
The key learning objectives of this program can be summarized as follows:
Module Description
Module Scope
Java
Inheritance, Exceptions
IO, Collections
Streams, Generics
Threads, Algorith Analysis
JDBC
Networking, Serialization
Regular Expressions, Coding Standards,
Design Patterns
Version Control, Git
Jakarta EE
Multi-tier Architecture
APIs, Web Tier
Enterprise JavaBeans – (EJBs)
RESTful Web Services – (JAX-RS)
XML Web Services – (JAX-WS)
Contexts and Dependency Injection (CDI)
Java Persistence API – (JPA)
Testing
JavaScript
HTML, CSS
JavaScript
The Document Object Model
Advanced Functionalities
Project Development & Capstone Project Presentations
---
Qualifications
Undergraduate IT-related studies.
English language, at least C1 Cambridge level.
Proven passion for software development with Java being your preferred language, while familiarity with the JavaScript programming language will be welcomed. Knowledge level of the above will be evaluated through a technical project & interview.
High-level communication ability | Team orientation | Quality orientation.
Note: Male candidates must have completed their (or have no) military obligations.
International travel and working at Client locations may be required.
---