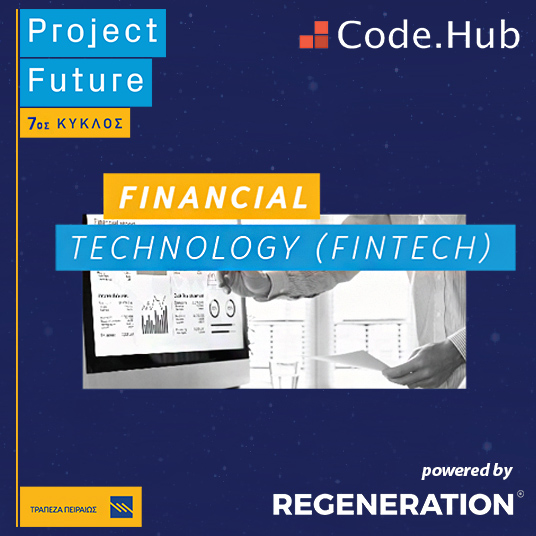 Financial Technology (Fintech)
Description
The specialized training Financial Technology (Fintech) powered by Code.Hub, in exclusive collaboration with Athens Tech College, invites you to claim a paid full-time position in the business world.
It is an intensive hands-on training program for both basic and advanced principles in Financial Engineering, Data Analytics, Business Intelligence, Artificial Intelligence, Machine Learning, Digital Transformation, Web & Mobile applications, Blockchain operations, Digital Signatures, Security, Cloud Engineering, lasting 60 hours through four weeks.
Duration & Schedule
This specific program lasts 4 weeks and consists of 60 hours of lectures and hands-on exercise on real case studies and projects via virtual classroom environment and online collaboration platforms.
Start Date: 29 November 2021
End Date: 21 December 2021
Detailed Schedule (*The Schedule is subject to adjustments)
Week 1
(November) 29, 30, (December) 2, 3
Weekdays – (18.00 – 21.15)
Week 2
6, 7, 9, 10
Weekdays – (18.00 – 21.15)
Week 3
13, 14, 16, 17, 18
Weekdays – (18.00 – 21.15)
Saturday – (10.00 – 13.45 | Hackathon)
Week 4
20
Weekdays – (18.00 – 21.15)
Project Presentations
Tuesday, 21 December
Approximate (17.00-21.15)
Key Objectives – Curriculum
This program will present, explore and adequately cover with extended hands-on sessions & real-life case studies the following areas:
Introduction, key trends and technologies

Tools

Tech enabled concepts

Mindset building

Data & Business Intelligence

New Technologies

The New Infrastructure

Security

Case studies
Conditions for participation:
Graduates of Greek or foreign higher education (ΑΕΙ / ΤΕΙ / College), on one of the following academic directions:
Information Technology, Computer Science and Telecommunications

Electrical Engineering and Electronic Engineering

Computer Engineering

Digital Systems

Web Development
Additional Conditions:
Up to 29 years old, as the program is aimed at graduates at the beginning of their careers.
Zero or limited work experience:
Work experience from 0 to 3 years full time, upon completion of studies.
Extracurricular activities:
Active involvement in extracurricular activities (eg volunteering, sports, entrepreneurship, art and any other non-academic activity).
CERTIFICATION INSTITUTE:

Athens Tech College

DURATION:

60 Hours through the course of 5 Weeks

PREMISES:

Online virtual classroom environment and online collaboration platforms