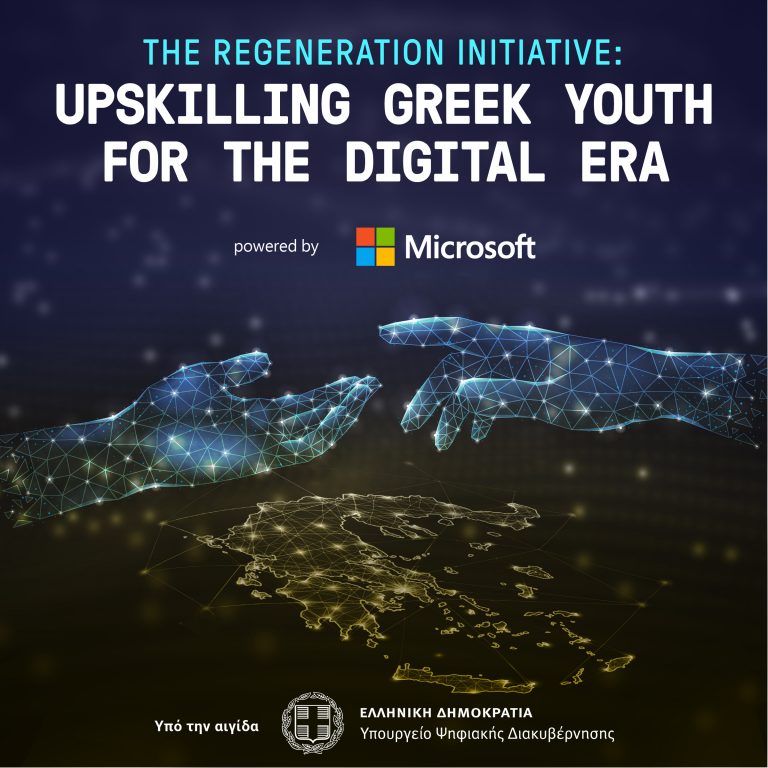 The ReGeneration Initiative: Upskilling Greek Youth for the Digital Era
Description
The ReGeneration Initiative: Upskilling Greek Youth for the Digital Era, under the auspices of the Ministry of Digital Governance, in exclusive collaboration with Athens Tech College, invites you to claim a paid full-time position in the business world.
In the age of knowledge, globalisation and digital technologies, business processes and activities have fundamentally changed. Information systems, Cloud technologies, automation applications, online collaboration tools and many other technologies are pillars of a business's digital infrastructure and operations. The ReGeneration Initiative: Upskilling Greek Youth for the Digital Era powered by Microsoft is an intensive training program of basic and more advanced digital technologies, practices and systems used by modern businesses for efficient work, support of strategic processes and enhancement of productivity.
Why to participate
The purpose of the program is to develop digital skills. Digital skills can be defined as a range of knowledge and competences required for the effective and efficient use of a company's digital infrastructure. In a modern working environment, the ability to use digital skills is now required in all sectors of professions, and not only for it-related sectors. This training program will help participants develop digital competences, skills and knowledge in order to integrate dynamically into the modern demanding conditions of the competitive labour market.
Learning & Development Methodology & Structure
The training program includes four Learning Paths:

Path I: ICT Tools & Professional Skills in the Digital Age
o Module 1: Office automations with desktop applications for business
o Module 2: Office automation with cloud applications
o Module 3: Contemporary Collaboration and communication tools
o Module 4: Communication and Collaboration Skills

Path II: Business Administration & Technlogy Projects Management
o Module 1: Information Systems and Data Management
o Module 2: Business intelligence and data visualization
o Module 3: Project Management
o Module 4: Career & Professional Development Skills

Path III: Digital Literacy for an Interconnected World
o Module 1: Internet Usage Skills and Security
o Module 2: Cloud Technologies and Services
o Module 3: Internet of Things
o Module 4: Critical Thinking, Brainstorming and Teamwork Skills

Path IV: Digital Transformation Tools & Processes
o Module 1: Digital Transformation
o Module 2: Business Development & Sales: Digital Tools, Channels and Strategy
o Module 3: Effective Online Presence of a Business and Search Engine Optimization
o Module 4: Creativity and Innovation Skills
Each path contains 4 modules: 3 distinct modules for the development of skills and knowledge in digital technologies, as well as 1 module that incorporates soft skills training. Participants can choose to attend two (2) of the four (4) paths. Each direction consists of 8 hours of training delivered in two 4-hour sessions. Participants will be divided into online classes of 75-100 beneficiaries in order to increase interaction.
Duration & Schedule
*** The Schedule is subject to minor adjustments ***
This specific program spans across 6 training weeks and we will be conducted via virtual classroom environment and online collaboration platforms.
Start Date: 13 December 2021
End Date: 29 January 2022
Detailed Schedule (*The schedule is subject to minor adjustments based on the outcome of the learning path selection process by the participants.)
Week 1
(December) 13, 14, 15, 16,17, 18
Weekdays – (18.00 – 21.15)
Saturday – (10.15 – 13.30)
Week 2
20, 21, 22
Weekdays – (18.00 – 21.15)
Week 3
(January) 03, 04, 05
Weekdays – (18.00 – 21.15)
Week 4
10, 11, 12, 13, 14, 15
Weekdays – (18.00 – 21.15)
Saturday – (10.15 – 13.30)
Week 5
17, 18, 19, 20, 21, 22
Weekdays – (18.00 – 21.15)
Saturday – (10.15 – 13.30)
Week 6
24, 25, 26, 27, 28, 29
Weekdays – (18.00 – 21.15)
Saturday – (10.15 – 13.30)
The detailed training program for 2021 indicating paths and modules is presented below:

Important Note 01: Exact paths repetition will be defined based on the participants' interest. Program beneficiaries will receive a relevant form for paths selection following the end of the application period.
Important Note 02: Based on the training program presented above a beneficiary can successfully graduate attending the necessary 16 training hours e.g. by attending Path IV (14 & 15/12) and Path II (16 & 20/12).
Key Objectives – Curriculum
This program will present, explore and adequately cover with extended hands-on sessions & real-life case studies the following areas:
Conditions for participation:
The program is designed for new graduates of any Greek or foreign educational institution (AEI / TEI / College) and young professionals who take their first professional steps.
Additional Conditions:
Up to 35 years old.
Work experience:
With work experience or not.
Purpose
The aim of the ReGeneration Initiative: Upskilling Greek Youth for the Digital Era training is to prepare competitive young scientists upskilled for the Digital Era, with exposure to technologies, techniques and tools that will make them competitive in the labor market, in order to claim positions in their scientific field or new technological fields.
CERTIFICATION INSTITUTE:

Athens Tech College

PREMISES:

Online virtual classroom environment and online collaboration platforms