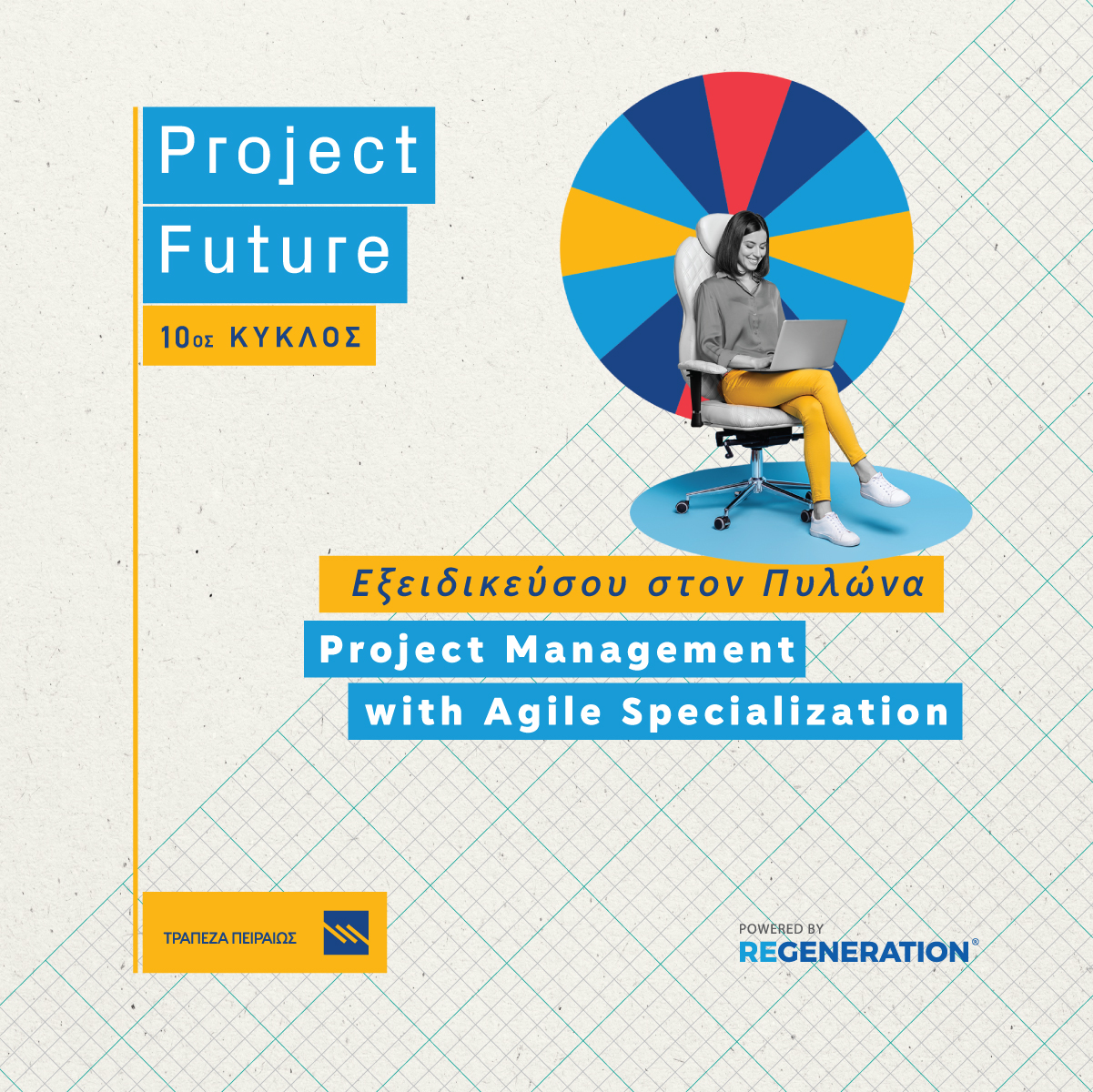 Project Future 10: Project Management with Agile Specialization
Description
The specialized training Project Management with Agile Specialization powered by Code.Hub, in exclusive collaboration with Athens Tech College, invites you to claim a full-time paid position in the business world.
Project Management with Agile Specialization is an intensive hands-on training program for both basic and advanced principles in Project Management and Agile Methodologies, lasting 60 hours in 5 calendar weeks. Through this program, participants will learn how to utilize Technology and modern management tools, in the new era of Digital Transformation and Digital Economy.
The program is complemented by the implementation of real-life case studies and projects, where project management methodologies are applied, with modern tools, and supported by the data-driven decision making process at the management level.
Project Management has a wide range of career opportunities and employability options. There is high demand in the industry for qualified professionals who combine knowledge in ICT and Management and can give a practical application of this knowledge in the modern, socio-economic environment.
---
Duration & Schedule
The program lasts 5 calendar weeks and consists of  60 hours of lectures and hands-on exercise on real case studies and projects via virtual classroom environment* and online collaboration platforms.
Start Date: 06 November 2023
End Date: 08 December 2023
Detailed Schedule (*The Schedule is subject to adjustments)
Introduction Day
Monday 06, November
Approximate (17.30-18.00)
Week 1
06, 08, 10
Weekdays – (18.00 – 21.15)
Week 2
13, 15, 17
Weekdays – (18.00 – 21.15)
Week 3
20, 22, 24
Weekdays – (18.00 – 21.15)
Week 4
27, 29, (Dec.) 01
Weekdays – (18.00 – 21.15)
Week 5
04, 06, 08
Weekdays – (18.00 – 21.15)
Presentations Day
Friday 08, December
Approximate (18.00 – 21.15)
---
Key Objectives – Curriculum
This program will present, explore and cover with extended hands-on sessions & real-life case studies the following areas:
The Reality of the Corporate Environments
PMO Overview & Operations
The traditional PM approach
Digital transformation for Project Management
Data-driven decision making for Project Managers
Agile principles
Scaling up Agile
Process Improvement Methodologies
---
Conditions for participation:
Graduates of Greek or foreign institutes of higher education (AEI / TEI / College), in one of the following academic areas:
Computer Science, Computer Engineering, Programming
Engineering
Mathematics
Statistics
Business
Finance
Additional Conditions:
Up to 29 years old, as the program is aimed at graduates at the beginning of their careers.
Zero or limited work experience:
Work experience from 0 to 3 years full time, upon completion of studies.
Extracurricular activities:
Active involvement in extracurricular activities (eg volunteering, sports, entrepreneurship, art and any other non-academic activity).
Purpose
The purpose of the training Project Management with Agile Specialization powered by Code.Hub is to prepare professionals specializing in Project Management and Leadership with expertise in Agile methodologies. It offers a strong theoretical and applied background and provides the necessary skills that will make the participants competitive in the labor market. Upon completion, the participants will be able to contribute to the modern practices for the structure and the organization of companies in any field and to Digital Transformation, with their knowledge of the needs and solutions for companies in IT and for companies with intensive technology projects.
---