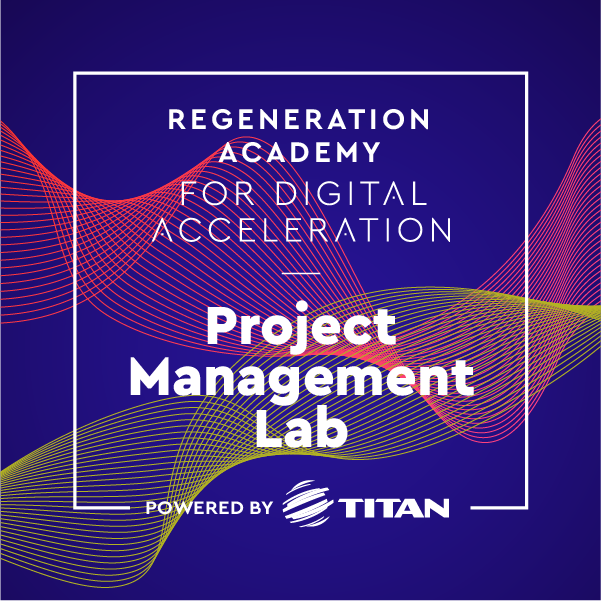 Regeneration Academy for Digital Acceleration | Project Management Lab
Description
The Regeneration Academy for Digital Acceleration | Project Management Lab powered by TITAN is the third exclusive collaboration between Regeneration and the TITAN Group, with Code.Hub as the training partner and with the academic guidance and support of Athens Tech College. It follows the very successful 2020 and 2021 Data Science Labs, with the majority of the specialized professionals who "graduated" finding their place in the job market.
Why participate
The Digital Acceleration | Project Management Lab powered by TITAN is an intensive program of theoretical and practical (hands-on) training on the introductory and more advanced principles of Project Management with emphasis on Digital Technologies and Digital Transformation projects.
Over the course of seven (7) weeks (21st of March 2022 – 3rd of May 2022) and 80 hours of total training, participants will become familiar with state-of-the-art solutions, the principles, functions and practices of management, as well as with the corresponding modern project management tools. Teaching is complemented with the implementation of real case studies and projects, where project management methodologies and data-driven decision support systems are applied in practical scenarios of the modern corporate world.
Project Management, especially in the Digital Era, has a great impact on companies, in IT, manufacturing, construction, finance and many other fields, as it is not limited to one industry and its principles apply to most of the processes in the majority of companies. The skills and resources provided in this academy open up prospects and significant career opportunities, in a market where demand is high for professionals with skills that combine knowledge of ICT (Information and Communication Technology) and Management, with a practical application in the modern social and economic environment.
Duration & Schedule
*** The Schedule is subject to minor adjustments ***
The program lasts 7 weeks and consists of 80 hours of lectures and hands-on exercises on real case studies and projects via virtual classroom environment and online collaboration platforms.
Start Date: 21 March 2022
End Date: 03 May 2022
Weekdays – (18.00 – 21.15)

Main training Dates:
Week 1 – March 21, 22, 24
Week 2 – 28, 29, 31, April 1
Week 3 – 4, 5, 7, 8
Week 4 – 11, 12, 14, 15
Week 5 – 18,19
Week 6 – 28, 29
Week 7 – May 3
Project Presentations – Tuesday, May 3, 2022
Key Objectives – Curriculum
This program will present, explore and adequately cover with extended hands-on sessions & real-life case studies the following areas:
Business Environment & Corporate Systems
The traditional PM approach
PMO Overview & PM Operations
Contemporary PM Reality & Practices
Software Products & New Enabling Technologies
Digital Transformation
Data-driven decision making for Project Managers
Conditions for participation:
Graduates / Postgraduates of Greek or foreign institutions of higher education (University / College), in one of the following academic fields:
Computer Science / Computer Engineering / Programming
Mathematics
Statistics
Engineering
Additional Conditions:
Up to 29 years old, as the program is aimed at graduates at the beginning of their careers.
Zero or limited work experience:
Work experience from 0 to 3 years full time, upon completion of studies.
Extracurricular activities:
Active involvement in extracurricular activities (eg volunteering, sports, entrepreneurship, art and any other non-academic activity).
Purpose
The purpose of the ReGeneration Academy for Digital Acceleration | Project Management Lab powered by TITAN is to prepare specialized Project Management professionals and provide them with the required comprehensive knowledge and a strong theoretical and applied background. This training will give them a competitive edge, equipping them with the necessary skills, tools and knowledge in order to progress in related positions in most business sectors, from Technology and Telecommunications to Manufacturing, Construction and Trade.
[maxbutton id="119″]
CERTIFICATION INSTITUTE:

Athens Tech College

DURATION:

80 Hours through the course of 6 Weeks

PREMISES:

Online virtual classroom environment and online collaboration platforms