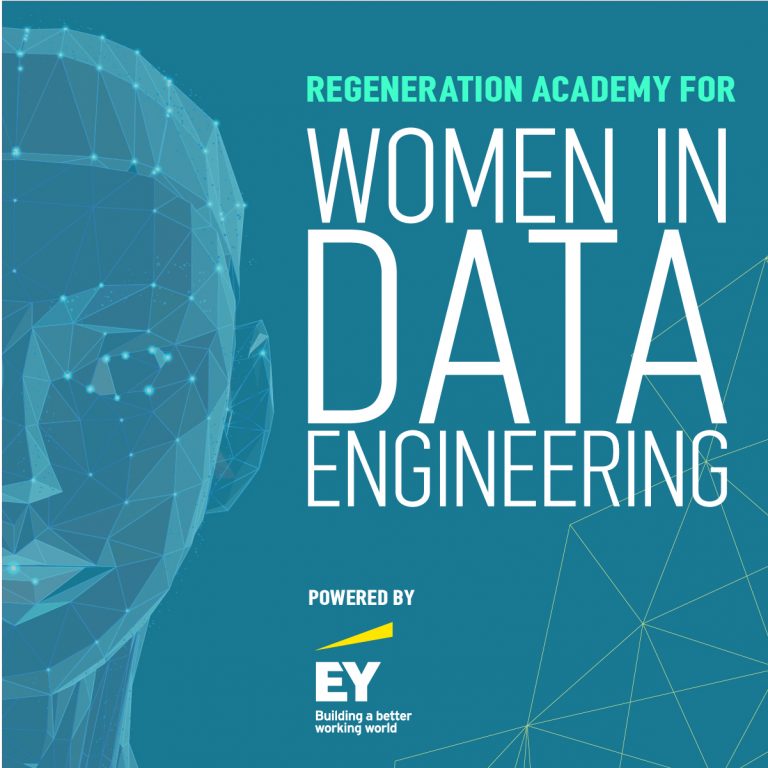 ReGeneration Academy for Women in Data Engineering powered by EY
Description
The ReGeneration Academy for Women in Data Engineering powered by EY is the new major collaboration between ReGeneration and EY, with Code.Hub as the training partner and the academic guidance and support of Athens Tech College. It is a pioneering training program in Data Engineering for women aiming at their education, specialization and training empowerment, in order to claim a paid full-time position in the dynamic world of business.
This Academy is an intensive training program of 100 training hours across 7 weeks, where participants will explore the role and responsibilities of the Data Engineer in modern professional environments, which use specialized technical skills to turn data into a source of business knowledge and provide possible decisions and strategic plans for the next corporate moves.
More specifically, the participants are exposed to the theoretical principles and the practical dimension of data collection and storage, the creation of data structures, the use of databases as well as the extraction, transformation and loading of data (Data Integration, ETL) to data warehouses. They will also utilize technologies and specialized software to optimize the form of data, process and analyze information, manage big data and acquire experience in data analytics and reporting tools.
Why participate
Data engineering is one of the most promising roles in modern industry and the driving force behind many modern major achievements. Data generation in modern corporate environments has evolved significantly compared to previous decades. The flow of data is continuous, in real time, and the nature of the data is not always organised in traditional structures. Similarly, the sources of the data are many and varying in nature, and often come from new processes that did not exist as sources a few years ago. For example, relatively recently businesses have started to deal with measuring customer browsing statistics on websites, such as how long each customer stays on each page they visit, or their behaviour with different placements or types of buttons. The resulting data are large in volume and different in form. The production of such data is a common practice in large corporations and is called "Big Data".
In order for the data to provide useful information to the business, their unorganized and seemingly unrelated nature must be explored, compiled, categorized and transformed. This is a series of technical processes that require specialized technical knowledge. These procedures are applied by the Data Engineers: professionals with experience in database systems, ability to synthesize algorithms for data conversion and production of new information, strong competency in data analysis, social skills for constructive communication with customers and focus on corporate goals. The Data Engineer role is of paramount importance for the essential use and understanding of corporate information, and it is only expected that the Data Engineer profession ranks as one of the fastest growing in recent years, with large companies like Amazon, Facebook, Hewlett-Packard and others, continuously hiring Data Engineers to optimize their business.
Within the above framework, the aim of the ReGeneration Academy for Women in Data Engineering powered by EY program is to prepare competent professionals who will be able to implement and organize the technical management of corporate data tasks. The program includes hands-on training in thematic units related to data engineering, big data and business intelligence.
Duration and Schedule
The program has a duration of 100 training hours in 7 teaching weeks in online courses through virtual classroom environment and online collaboration platforms.
Start Date: 13 December 2021
End Date: 04 February 2022
Detailed Schedule (*The Schedule is subject to adjustments)
Time: Afternoon @18.00 – 21.15
Week 1 –
(December) 13, 14, 16, 17
Week 2 –
20, 21
Week 3 –
(January) 3, 4, 5
Week 4 –
10, 11, 13, 14
Week 5 –
17, 18, 20, 21
Week 6 –
24, 25, 27, 28
Week 7 –
31, (February) 1, 3
Project Presentations –
Friday, 4 February

Key Objectives – Curriculum
Participants will have the opportunity to attend 100 hours of training in 7 teaching weeks. Basic and more advanced principles will be studied spanning in the following thematic units:
Software Engineering Aspects

Data, Data Management Systems & Data Stores

Data Warehouses & Data Marts

Big Data (Hadoop, Kafka)

Business Intelligence Ecosystem

Data Integration with SSIS & SQL (Extract, Transform, Load)

Data Analysis & Business Analytics

Data Visualization and Reporting (Power BI)
Conditions for Participation
Graduates of Greek or foreign schools of higher education (AEI / TEI / College), one of the following academic directions:
Information Technology and Computer Science
Electrical Engineering and Electronic Engineering
Computer Engineering
Mathematics & Statistics
Applied Mathematics
Additional Conditions:
Women up to 29 years old, as the program is aimed at graduates at the beginning of their careers.
None or limited work experience:
Work experience from 0 to 3 years full time, upon completion of studies.
Extracurricular activities:
Active involvement in extracurricular activities (eg volunteering, sports, entrepreneurship, art and any other non-academic activity).
Purpose
The aim of the ReGeneration Academy in Data engineering powered by EY is to prepare specialized scientists in the area of corporate data management, with exposure to technologies, techniques and tools that will make them competitive in the market, in order to claim positions in the fields of Data Engineering and Business Intelligence, to participate in corporate teams with functions such as data definition, data analysis, data integration, business intelligence, reporting, data visualization, impact analysis, decision-making, in collaboration with Software Engineers, Data Scientists, Data Analysts and other professionals.

The participants in the program will gain knowledge and experience that will make them, as professional Data Engineers, key people in the companies which want to process data that may arrive from any potential source. Through the knowledge they will acquire, these professionals will be responsible for turning the volumes of unorganized company data into information ready for use, and presenting it so that it becomes a key tool in the hands of company leaders. The skills offered by the program will help them participate in companies in any business area, especially those which have complex and large data sets, which want to use their data to analyze their current position, to explore the opportunities that arise, and which want to make decisions based on the possible scenarios.
CERTIFICATION INSTITUTE:

Athens Tech College

DURATION:

100 Hours through the course of 7 Weeks

PREMISES:

Online virtual classroom environment and online collaboration platforms