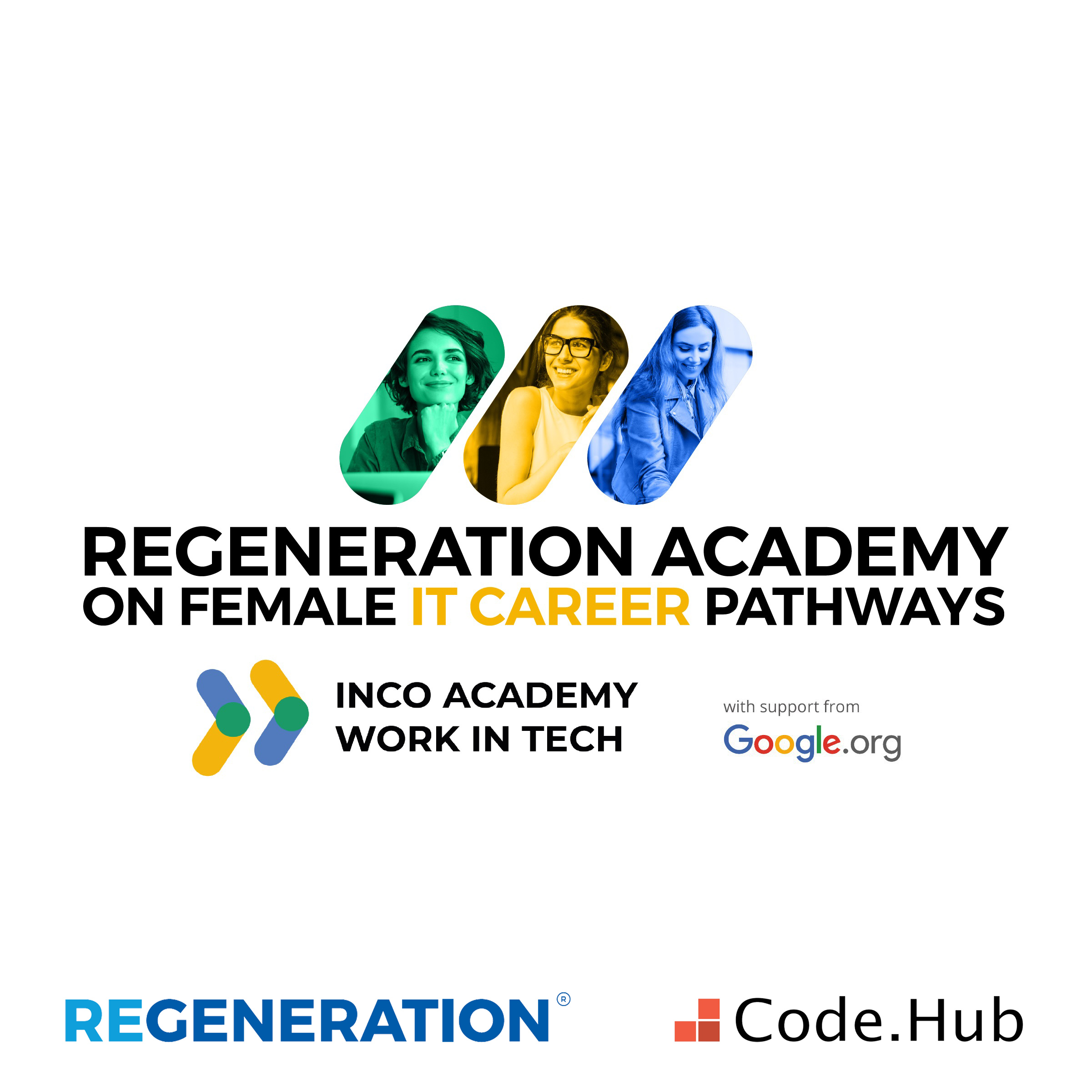 ReGeneration Academy on Female IT Career Pathways
The specialized training DevSecOps powered by Code.Hub, in exclusive collaboration with Athens Tech College, invites you to claim a paid full-time position in the business world.
It is an intensive hands-on training program for both basic and advanced principles in DevSecOps Processes & Principles, Infrastructure & Configuration Management, Continuous Pipelines, Cloud Computing Building Blocks, AWS & Azure Basics, Identity & Access Management ,High Availability and Scalability aspects, Storage Services & Databases, Security & Encryption, Networking, Containers & Orchestration, Monitoring, bridging the gap between Software Engineers / Developers departments and Infrastructure and Operations departments, inventing the best IT solutions, speeding up processes and aiming for continuous improvement.
The term DevSecOps includes, in addition to the above, the integration and focus on Security in order to avoid risks during development and operations.
More specifically, this academy focuses and highlights the above in the light of cloud computing and related services offered in modern work environments and offers benefits in terms of cost, speed, global scale, productivity, efficiency, reliability and security.
Duration & Schedule
This specific program lasts 6 weeks and consists of 80 hours of lectures and hands-on exercise on real case studies and projects via virtual classroom environment and online collaboration platforms.
Start Date: 27 April 2022
End Date: 3 June 2022
Detailed Schedule (*The Schedule is subject to adjustments)
Week 1
(April) 27, 28, 29
Weekdays – (18.00 – 21.15)
Week 2
(May) 4, 6, 7
Weekdays – (18.00 – 21.15)
Saturday – (10.15 – 13.30)
Week 3
9, 11, 13
Weekdays – (18.00 – 21.15)
Week 4
16, 18, 20, 21
Weekdays – (18.00 – 21.15)
Saturday – (10.15 – 13.30)
Week 5
23, 25, 27
Weekdays – (18.00 – 21.15)
Saturday – (10.15 – 13.45)
Week 6
30, (June) 1, 2, 3
Weekdays – (18.00 – 21.15)
Project Presentations
Friday, 03 June
Approximate (18.00-21.15)
Key Objectives – Curriculum
This program will present, explore and adequately cover with extended hands-on sessions & real-life case studies the following areas:
DevSecOps Aspects, Processes and Principles
Infrastructure & Configuration Management
Continuous Pipelines
Cloud Computing Building Blocks
AWS & Azure Basics
Identity & Access Management
High Availability and Scalability aspects
Storage Services & Databases
Security & Encryption
Networking
Containers & Orchestration
Monitoring
Conditions for participation:
Graduates of Greek or foreign higher education (ΑΕΙ / ΤΕΙ / College), on one of the following academic directions:
Information Technology, Computer Science and Telecommunications
Electrical Engineering and Electronic Engineering
Computer Engineering
Digital Systems
Web Development
Additional Conditions:
Up to 29 years old, as the program is aimed at graduates at the beginning of their careers.
Zero or limited work experience:
Work experience from 0 to 3 years full time, upon completion of studies.
Extracurricular activities:
Active involvement in extracurricular activities (eg volunteering, sports, entrepreneurship, art and any other non-academic activity).
Purpose
The purpose of the program is to prepare specialized scientists with a strong theoretical background and hands-on experience on the basic services offered in Cloud environments (particularly in AWS), and equipping them with the necessary exposure to technologies, techniques and tools that will make them competitive in the market, in order to claim positions in the area of Software Engineering and more specifically in DevSecOps and SRE (Site Reliability Engineering).