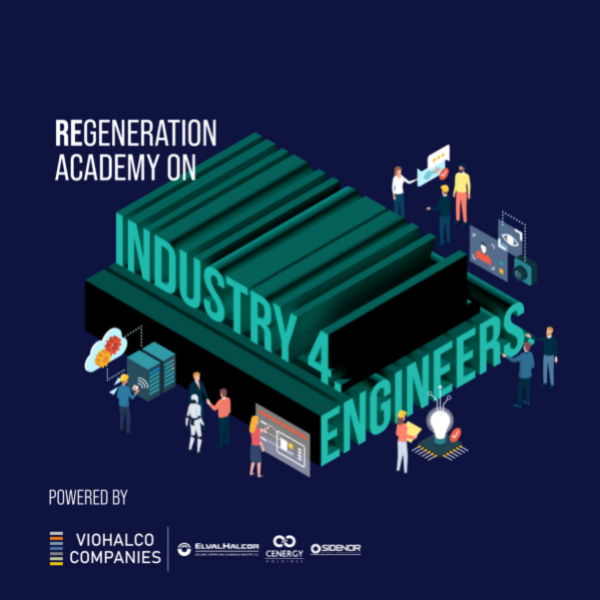 Industry 4. Engineers powered by Viohalco Companies
The ReGeneration Academy on Industry 4. Engineers, powered by Viohalco companies is a training program which aims to educate, train, specialize, empower, and provide employment opportunities to young graduates supporting them to become professionally competitive and secure full-time employment in the dynamic world of engineering.
The program is designed by ReGeneration and Viohalco companies with Code.Hub as training partner and academic support from the Athens Tech College and lasts a total of 90 hours of specialized theoretical and practical training over a period of 6 weeks (May 23, 2022 – June 30, 2022) in digital classroom environment
Thematic units related to Project Management (traditional and modern practices and techniques), Lean Management & Problem Solving, Process Management, Quality Assurance & Control, HSE Management, Data Analysis & Business Intelligence will be covered extensively theoretically and practically.
Hence, the candidates will gain knowledge and experience to help companies of any size to organize, improve and expand their production processes by providing the best quality. In the field of modern industry the need for professionals who can offer their skills and their knowledge at all levels, from project planning and communication with stakeholders to resolving issues in the industrial production unit and analyzing data and processes for finding solutions, is constantly more intense and more obvious.
Duration & Schedule
*** The Schedule is subject to minor adjustments ***
The program will span over 90 hours and 6 teaching weeks. Courses are provided online via virtual classroom environment and online collaboration platforms.
Start Date: 23 May 2022
End Date: 30 June 2022
Detailed Schedule
Week 1
(May) 23,24, 26, 27 Weekdays– (18.00 – 21.15)
Week 2
30, 31, (June) 2, 3 Weekdays– (18.00 – 21.15)
Week 3
6, 7, 9, 10 Weekdays– (18.00 – 21.15)
Week 4
14, 16, 17 Weekdays– (18.00 – 21.15)
Week 5
20, 21, 23, 24 Weekdays– (18.00 – 21.15)
Week 6
27, 28, 30 Weekdays– (18.00 – 21.15)
Project Presentations
Thursday, 30 June Presentations – (16.15-21.15)
Key Objectives – Curriculum
The program will present and cover the following thematic units:
Project Management (The traditional approach)
Lean Management & Problem Solving Methodologies
Intro to Contemporary PM
Process Management
Quality Assurance & Control (QA/QC)
HSE Management
Business & Soft Skills
Data, Analysis & Business Intelligence
Capstone Project
Conditions for participation
(a) young graduates of
Polytechnic Schools, such as
Mechanical Engineering
Electrical and Computer Engineering
Applied Mathematics & Natural Sciences
Chemical Engineering
Production Engineering & Management
Environmental Engineering
Civil Engineering
Mining and Metallurgical Engineering
(b) up to 29 years old, as the program is aimed at graduates beginning their careers.
(c) with zero or limited work experience, up to 3 years after completion of studies.
(d) participating at extracurricular activities (volunteering, sports, entrepreneurship, art and culture, etc.).
What to expect from the Academy
The purpose of the ReGeneration Academy on Industry 4. Engineers, powered by Viohalco companies is to develop specialized and highly skilled professionals with knowledge, tools and good practices of modern industry. The program aims to enhance their professional profile and market integration enabling them to develop a complete skillset to succeed in today's demanding working environment. Upon completion of the program, the participants will be enabled to seek employment opportunities in Engineering, Management, Administration, Business Analysis, and/or Consulting.
CERTIFICATION INSTITUTE:

Athens Tech College

DURATION:

90 Hours through the course of 6 Weeks

PREMISES:

Online virtual classroom environment and online collaboration platforms