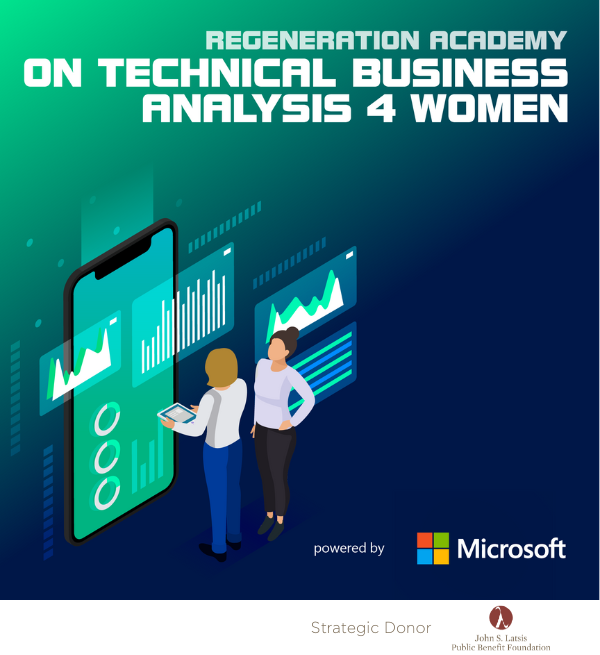 Technical Business Analysis 4 Women powered by Microsoft
Description
The specialized training Technical Business Analysis 4 Women, that has been carefully designed by ReGeneration and Microsoft, with Code.Hub as a training partner, in exclusive collaboration with Athens Tech College, invites you to claim a paid full-time position in the business world.
It is an intensive hands-on training program for both basic and advanced principles in Business Analysis, Technical Business Analysis Techniques, Application Lifecycle Management (ALM), Software Development Life Cycle (SDLC), Business Analytics with Excel, Database Systems, Data Visualization bridging the gap between Software Engineers / Mathematicians, Statisticians and Εconomists, inventing the best IT solutions, speeding up processes and aiming for continuous improvement.
Business analytics plays an important role in the Business and IT industry, helping organizations improve processes and systems, conduct research and analysis, solve problems and mitigate risk.
Through the Technical Business Analysis 4 Women program, the participants will acquire the knowledge and skills necessary to bridge the gap between the business world and the technical reality, through the understanding of business operations and business management, as well as acquisition of skills in the management of modern structures of storage and data analysis
---
Duration & Schedule
This specific program lasts 5 weeks and consists of 60 hours of lectures and hands-on exercise on real case studies and projects via virtual classroom environment and online collaboration platforms.
Start Date: 01 March 2023
End Date: 31 March 2023
Detailed Schedule (*The Schedule is subject to adjustments)
Introduction Day
Wednesday 01, March
Approximate (18.00 – 21.15)
Week 1
(Mar.) 01, 03, 04
Weekdays – (18.00 – 21.15)
Weekends – (10.15 – 13.15)
Week 2
06, 08, 10, 11
Weekdays – (18.00 – 21.15)
Weekends – (10.15 – 13.15)
Week 3
13, 15, 17, 18
Weekdays – (18.00 – 21.15)
Week 4
20
Weekdays – (18.00 – 21.15)
Week 5
27, 29, 31
Weekdays – (18.00 – 21.15)
Presentations Day
Friday 31, March
Approximate (18.00 – 21.15)
---
Key Objectives – Curriculum
This program will present, explore and adequately cover with extended hands-on sessions & real-life case studies the following areas:
Business Acumen
Application Lifecycle Management (ALM)
Software Development Life Cycle (SDLC)
Technical Requirements Gathering & Documentation (SRS)
Business Analysis & Design

Software Systems Design (UML Diagrams)

Prototypes and wireframes development

Low-code/ no-code Apps

Database Systems
Business Analytics & Data Visualization (Excel, Power BI)
---
Conditions for participation:
Graduates of Greek or foreign schools of higher education (AEI / TEI / College), one of the following academic directions:
Information Technology, Computer Science and Telecommunications
Electrical Engineering and Electronic Engineering
Computer Engineering
Digital Systems
Web Development
Mobile Development
Mathematics & Statistics
Applied Mathematics and Physical Sciences
Business and Finance
Additional Conditions:
Up to 29 years old, as the program is aimed at graduates at the beginning of their careers.
Zero or limited work experience:
Work experience from 0 to 3 years full time, upon completion of studies.
Extracurricular activities:
Active involvement in extracurricular activities (eg volunteering, sports, entrepreneurship, art and any other non-academic activity).
---
Purpose
The purpose of Technical Business Analysis 4 Women powered by Microsoft is to prepare competitive and specialized scientists to claim positions in fields related to business analysis. By completing the academy, finalists will have acquired comprehensive knowledge and a strong theoretical and applied background to absorb and claim jobs in the fields of:
Business Analysis
Technical Business Analysis
Business System Analysis

Project/ Product Analysis & Management

Business Data Analysis
---