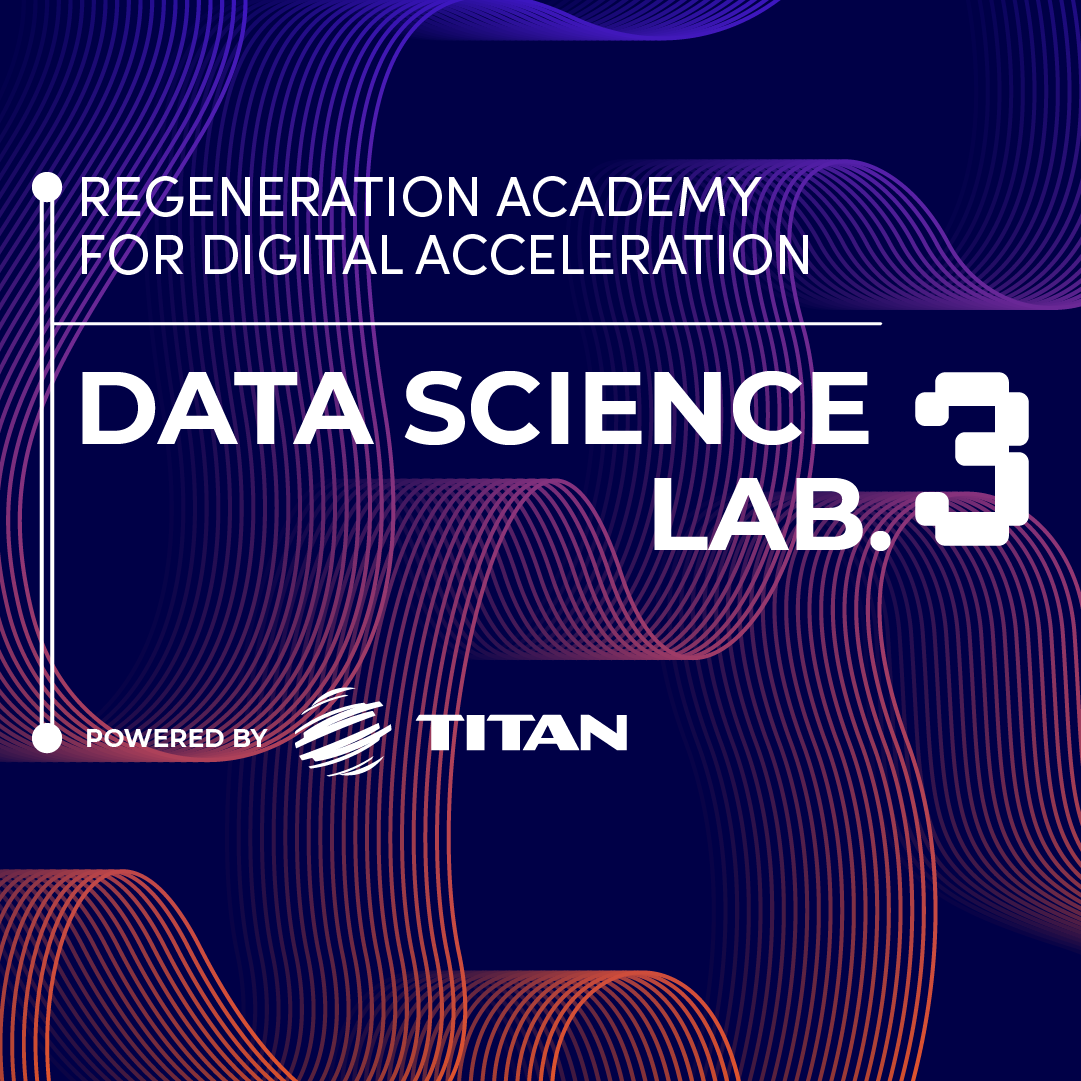 ReGeneration Academy for Digital Acceleration | Data Science Lab 3 powered by TITAN
Description
The ReGeneration Academy for Digital Acceleration | Data Science Lab 3 powered by TITAN returns following the very successful Data Science Labs of 2020 and 2021. This Lab is the fourth consecutive collaboration between TITAN Group and ReGeneration, with Code.Hub as the training partner and with the academic guidance and support of Athens Tech College. As part of this important collaboration, the vast majority of graduates were placed in the labor market, in the cutting-edge areas of Data Science and Project Management.
The 3rd Data Science Lab is part of the ReGeneration Academy for Digital Acceleration powered by TITAN initiative which aims to accelerate digital transformation in Greece. Through this initiative, young graduates will become familiar with the fundamental concepts in the field of data management and data analytics, in order to generate knowledge and apply it in the decision-making process.
This is an intensive hands-on training program (24th of April-15th of June) on basic and advanced principles and techniques of Data Science, combined with the necessary knowledge of Business Intelligence. The program will lasts 100 hours over 8 weeks and will take place online in a digital classroom ecosystem. In addition, a familiarization event with ΤΙΤΑΝ Group is planned to complete the holistic experience of the participants.
Why participate?
Data science and Business Intelligence aspects will be covered in detail!
During the program, the participants will ''unlock'' state-of-the-art techniques and tools for data collection, storage, transformation, use, visualization, and acquisition. They will acquire all necessary skills to meet the growing demand of the modern business world for specialized data scientists. They will be able to combine hands-on experience in data-related industry fields and understand the theoretical and practical background of Business Intelligence used for the interpretation of those data and their application in the decision-making process.
Through topics such as data transformation, visualization and machine learning , participants will come up with powerful tools for management, analysis and use of data to produce knowledge and use it to support the decision-making process.
Today, data are inextricably linked to the operation of businesses and necessary prerequisites for effective data-driven decision-making.
The programming language used in this hands-on training will be Python.
Key Objectives – Curriculum
The core of this program is  to present, explore and adequately cover the following aspects using extended real-life business case studies & industry scenarios:
Relational Databases & Data Stores
SQL & Python
Business Intelligence
Data Visualization & Advanced Analytics
Machine Learning
Artificial Intelligence
Big Data Technologies & Systems
Azure Cloud Fundamentals
Duration & Schedule
The academy lasts 8 weeks and consists of 100 hours of lectures and hands-on exercises on real-life use-cases and projects, in an instructor-led virtual classroom via live streaming and through online collaboration platforms.
The detailed schedule of the training is described below:
Start Date: 24 April 2023
End Date: 15 June 2023
Detailed Schedule (*The Schedule is subject to adjustments)
Time:
Afternoon @18.00 – 21.15
Morning (Saturday) @10.00 – 13.15
Introduction Day – 24 April @

17.30
Week 1 –
(April
) 24, 25, 27
Week 2 – (May)
02, 04, 06
Week 3 –
09, 11, 12, 13
Week 4 –
16, 18, 19
Week 5 –
23, 25, 26, 27
Week 6 –
30,
(June)
01, 02
Week 7 –
06, 08, 09
Week 8 –
13, 15
Project Presentations –
Thursday, 15 June
Conditions for participation:
Graduates of Greek or foreign universities, in one of the following academic directions:
● Information Technology, Computer Science and Telecommunications
● Electrical Engineering
● Computer Engineering
● Mathematics & Statistics
● Applied Mathematics and Physical Sciences
● Postgraduate programs in data related fields
Additional Conditions:
Up to 29 years old, as the program is aimed at graduates at the beginning of their careers.
Zero or limited work experience:
Work experience from 0 to 3 years full time, upon completion of studies.
Extracurricular activities:
Active involvement in extracurricular activities (eg volunteering, sports, entrepreneurship, art and any other non-academic activity).
---
Purpose
The purpose of the ReGeneration Academy for Digital Acceleration | Data Science Lab 3 powered by TITAN is to prepare specialized professionals and provide them with the necessary skills that will give them a competitive edge in the labor market, for jobs, such as Data Scientist, Data Science Manager, Data Science Consultant, Machine Learning Engineer.