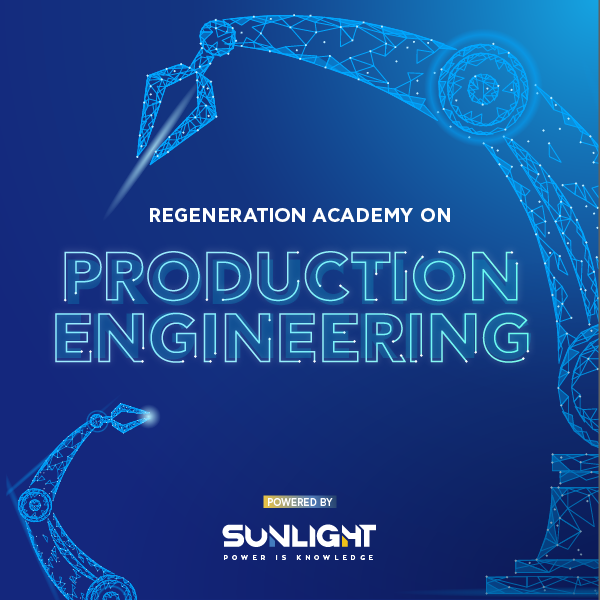 ReGeneration Academy on Production Engineering powered by Sunlight
Description
The ReGeneration Academy on Production Engineering, powered by Sunlight is the result of the collaboration between ReGeneration and Sunlight, which led to the development of a pioneering training program in Production Engineering. The Academy aims to educate, train, specialize, empower, and provide employment opportunities to young graduates –focusing on northern Greece– supporting them to become professionally competitive and secure full-time employment in the dynamic world of business.
The program comprises a total of 90 hours of specialized theoretical and practical training via online courses, delivered over a period of 7 teaching weeks – from 13 December 2021 to 4 February 2022. The ReGeneration Academy on Production Engineering program has been designed by ReGeneration and Sunlight, with Code.Hub as training partner and academic support from the Athens Tech College. It combines introductory and advanced principles of Production Engineering, from both a scientific-technical aspect, as well as an administrative one, in a real time production environment.
With the use of analytical tools, as well as state-of-the-art practices and technologies, and a particular emphasis on international best practices, participants will be trained to address the needs of the modern business world for professionals, who can actively and effectively participate in production – by improving existing processes and creating new ones where needed.
Why to participate
In the more traditional sense of company organization, the concept of process optimization, including production processes, has only recently been recognized as necessary for further development across all fields of business; despite the fact that optimization as both a term and function, began several decades ago. Currently, in the field of production this need is becoming gradually more intense, as evident in the continuous specializations in new professions, new approaches in functions performance, and the use of new tools for more efficient organization and decision making.
Based on the above, the program offers participants the necessary skillset to address professional demands created by these new working conditions as it focuses on equipping candidates to face the challenges of contemporary production by providing them with best practices, techniques, tools, and procedures.
Hence, the candidates will gain knowledge and experience valuable to any company keen to organize, improve and enhance its production processes; starting from the office environment, the planning of projects and communication with stakeholders, all the way up to the production unit.
Duration & Schedule
*** The Schedule is subject to minor adjustments ***
The program will span over 90 hours and 7 teaching weeks. Courses are provided online via virtual classroom environment and online collaboration platforms.
Start Date: 13 December 2021
End Date: 4 February 2022
Detailed Schedule
Week 1


(December) 13, 14, 16, 17

Weekdays–

(18.00 – 21.15)

Week 2


20, 21

Weekdays–

(18.00 – 21.15)

Week 3


(January) 3, 4, 5

Weekdays–

(18.00 – 21.15)

Week 4


10, 12, 14

Weekdays–

(18.00 – 21.15)

Week 5


17, 19, 21

Weekdays–

(18.00 – 21.15)

Week 6


24, 26, 28

Weekdays–

(18.00 – 21.15)

Week 7


31, (February) 1, 3

Weekdays–

(18.00 – 21.15)

Project Presentations


Friday, 4 February

Presentations –

(16.15-21.15)
Key Objectives – Curriculum
The program will present and cover the following thematic units:
Technical Skills: Process improvement and production techniques, Operational Excellence Techniques, Process mapping, Gap analysis, Value Stream Map
Business Skills: Identifying business opportunities, Analysing internal business strengths and weaknesses, Organisational effectiveness and the Balanced Scorecard, Corporate business and operational strategies, Delivering Value, Stakeholder analysis
Analytical Skills: Data analysis, Business Intelligence, Decision-making under uncertainty, Data visualisation and descriptive statistics, Evidence-based decisions, PowerBI
Organisational Skills: Project Life Cycle, Business Analysis of Projects, Requirements capturing, Work Breakdown Structure, Prioritizing tasks, Risk Management, Agile Methodologies Tools & Techniques
Communication Skills: Stakeholder Management, Communication Management, Change Management, Team management and motivation, Communities of Practice (CoP), Presenting professionally, Τechnical report writing
QA & QC Skills: Quality Management Systems (QMS), Statistical Process Control overview, overview of ISO 9001:2015, Main requirements of ISO 9001, Six Sigma, The DMAIC Approach, The DMADV Approach, Critical Success Factors
Capstone Project
Conditions for participation
(a) young graduates of
Polytechnic Schools, such as

Mechanical Engineering
Electrical and Computer Engineering
Applied Mathematics & Natural Sciences
Chemical Engineering
Production Engineering & Management
Environmental Engineering

but also STEM (Science, Technology, Engineering, Mathematics) of Greek or foreign tertiary education institutions (AEI/TEI/College)
(b) up to 29 years old, as the program is aimed at graduates beginning their careers.
(c) with zero or limited work experience, up to 3 years after completion of studies.
(d) participating at extracurricular activities (volunteering, sports, entrepreneurship, art and culture, etc.).
What to expect from the Academy
The purpose of the ReGeneration Academy on Production Engineering, powered by Sunlight is to develop specialized and highly skilled professionals in Production Engineering, i.e. people who can actively contribute to a company's production processes – from both an engineering and an administrative scope. The program aims to enhance the participants' technical and organizational skills, analytical thinking, practical approach, and other soft and hard skills, enabling them to develop a complete skillset to succeed in today's demanding working environment. Upon completion of the program, they will be enabled to seek employment opportunities in Engineering, Management, Administration, Business Analysis, and/or Consulting.
CERTIFICATION INSTITUTE:

Athens Tech College

DURATION:

90 Hours through the course of 7 Weeks

PREMISES:

Online virtual classroom environment and online collaboration platforms